BY TYLER DURDEN
WEDNESDAY, FEB 16, 2022 – 06:40 PM
NATO is now talking about Russia's failure to withdraw troops from near Ukraine even though on Tuesday the Kremlin had announced the start of a draw down of some military units in the south. "Russia's failure to withdraw can be confirmed through commercial satellite imagery," NATO chief Jens Stoltenberg said Wednesday.
His statement comes less than 24 hours after President Biden addressed the Ukraine situation in a televised speech wherein he alleged that a Russian attack on Ukraine is "still very much a possibility" and that the troop reduction is "not verified yet". Biden took the opportunity to again warn of "overwhelming international condemnation" and unprecedented sanctions, including "export controls…methods we did not pursue when Russia took Crimea in 2014."
As part of the "decisive response" the administration has said it has in its arsenal as a maximalist 'nuclear option' which would see Russia off from the international SWIFT payment settlement system. But Moscow was quick to respond Wednesday, with Finance Minister Anton Siluanov reaffirming his country has "prepared alternatives" which ensure such US sanctions while yet "unpleasant" would remain "not fatal". He assured in an online briefing that Russia will fulfill all settlements, and further that "Any restrictions on energy exports will be compensated by corresponding price growth."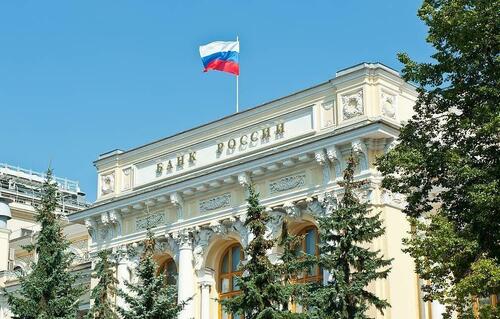 "Thank god we have enough forex liquidity and enough forex reserves," Siluanov told reporters in the briefing. "They say we have a financial shield in the form of gold and forex reserves, budget surplus and [budget] rule, low debt."
When it comes to the scenario of being cut off from SWIFT, which is being reported as possibly part of a sweeping sanctions package under preparation by US and European officials, Siluanov referenced the his country being able to withstand it, with plans being readied for a "Fortress Russia" approach:
"We expect the country's financial system to continue to focus inwards as part of the "Fortress Russia" strategy and advance digital and fintech sovereignty."
It was reported that as of early February, Russia possesses nearly $635 billion in gold and forex reserves. On the energy question, he affirmed that Russia stands ready to re-route to other markets.
The comment about advancing "digital and fintech sovereignty" is particularly interesting in light of President Putin's October 2021 statements wherein he rattled American financial officials after hinting that cryptocurrencies could be 'weaponized' as a dollar replacement.
"Like banning the internet…"
At the time, the Russian president discussed potential use cases of cryptocurrencies in a CNBC interview following a plenary session of the ​​Russian Energy Week forum, noting that while he considers cryptocurrency "crude and under-developed," it could "someday" be used instead of the US dollar to trade with.
"I believe that it has value," Putin told CNBC, when asked whether bitcoin or cryptocurrencies can be used in place of the US dollar.

"But I don't believe it can be used in the oil trade."
Later in the interview, Putin reiterated his criticisms about how Washington's abuse of the dollar's dominance is tantamount to brandishing an "economic weapon", and remains keen to ditch dollar-denominated payments.
But as we detailed at the time, given recent legislation as well as ongoing debate in the state parliament, there's been incredibly mixed signals out of Russia concerning crypto and its potential use as part of Russia's "alternatives" to SWIFT, but this current crisis is only likely to serve to push Moscow toward further favorability.