Gold prices have held firm around the $1,900 (USD) / oz. mark for much of October 2020 on the strength of the US dollar, but over the next few weeks analysts forecast a "lasting price upswing" in its value.
This would come as good news for gold exploration companies, such as Getchell Gold Corp. (CSE: GTCH, OTCQB: GGLDF, Forum).
Focused on advancing gold and copper properties in Nevada, GTCH's asset portfolio is quite impressive. From its most advanced stage asset, Fondaway Canyon, a past gold producer with a significant in-the-ground historic resource estimate, to Dixie Comstock, another past gold producer with a historic resource and two earlier stage exploration projects, Hot Springs Peak and Star Point.
It is at the latter of those properties, the Star Point Copper-Gold-Silver Project in Pershing County, where the Company recently completed its Induced Polarization (IP) geophysical survey ahead of schedule. The historical Star Point was one high-grade occurrence where the IP survey was conducted, the other was the copper-gold-silver Star South artisanal mining site, both for the purpose of refining previously identified geophysical anomalies for drill targeting.
Getchell Gold President Mike Sieb highlighted, "As a Company, we are in a great place. Our valuation has been propelled by the activity and quality of our projects in combination with a strong gold market. By the end of the year we will have accomplished all of our 2020 exploration objectives, have a healthy treasury remaining going into 2021 and look forward to taking our projects to the next stage."
The bigger picture:
These discoveries can be considered hard evidence of a phenomenally bigger upside for investors.
A preferred target for gold exploration, Nevada has long been known for its historical gold and copper production, there still is much more to be discovered.
In the news release, the Company pointed to high grade mineralization observed at surface at Star Point and Star South. The Star Point Copper Mine returned samples grading 4.25, 3.00 and 2.35% Cu. A high proportion of well mineralized samples were returned from Star South artisanal mining dumps as well, with one sample grading 2.45% Cu, 9.26 g/t Au and 310.0 g/t Ag. Previous geophysical surveys had identified sizeable anomalies underlying surface showings, while a multiple line IP survey with objective to refine drill targets at Star Point and Star South had recently been completed.
Located roughly 65 kilometres to the North of the Company's flagship Fondaway Canyon advanced stage exploration gold project where a 2,000m drill program is currently in progress, the Star Project boasts two main mineralized occurrences, the formerly producing Star Point copper mine and the Star South Cu-Au-Ag prospect just two kilometres south (see map below).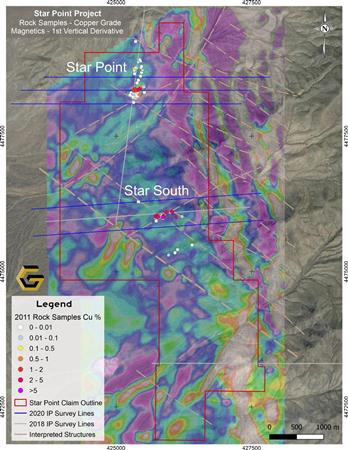 (Star Point project area showing 2011 rock grab sample copper results, 2018 and 2020 IP survey lines and 2018 magnetic survey 1st vertical derivative. Image via Getchell Gold Corp. Click to enlarge.)
Meanwhile at the Company's advanced stage Fondaway Canyon Gold project, four of six drill holes had been completed on the 2,000-metre drill program.
Why this matters:
This marks another win Getchell Gold, who is seeing continued success in one of Nevada's major commodity industries, with one of the largest sources of gold in the world. In 2018 alone, the state produced more than 5.5 Million troy ounces, which represents 78% of gold in the US and 5% of global production. The state has been eager to see operators get back to ramping up copper mining as well, with an increase in building construction and transmission lines comes a demand for copper and anyone that can prove they can help meet this demand, such as Getchell Gold Corp. with its portfolio of proven past producing mines, is one Company that investors should keep on their radar and do deeper due diligence into what they offer.