Chinese stimulus has helped base metals enjoy a year to remember. With a Biden win and vaccine boost coming into play, further upside seems likely.
Chinese stimulus helps base metals recovery
Base metals have enjoyed an incredible run higher over the course of this year with the first-quarter (Q1) declines being overshadowed by a recovery which have taken us into fresh long-term highs over the past month. Chinese demand has been a key factor in this ascent, with their stimulus-fuelled recovery helping to keep demand elevated. However, that surge in demand from China may not be over, with Biden's Presidency expected to see a thawing of the US-China relations.
China itself has been sucking up much of the global supply of copper in particular, with the year-to-date (YTD) imports of 5.6 million tonnes standing at a record annual figure despite having another two months left to run.
Aluminium is the other area where China has been heavily dominating the demand landscape, with the likes of zinc, nickel, and lead being less of a focus for the country. However, with Tesla founder Elon Musk having urged nickel producers to bring more to the market, it is clear that this material will become increasingly important for the push away from petrol and diesel cars.
Meanwhile, the risk-on sentiment we are seeing throughout global markets over the past week highlights a growing feeling that the world could return to some semblance of normality once we have seen the distribution of the vaccine globally. Thus, while the Chinese recovery has been driven heavily by stimulus, there is a hope that the economic recovery helps drive up demand for exports.
Copper approaches major resistance
Copper has been one of the main benefactors of this recent bull run, with the last rally taking us into the best level since mid-2018.
With that in mind, there is a good chance we will see further upside as we move forward. With the price heading higher, it is worthwhile noting the 7347 resistance level up ahead. A break below the 6670 support level would be required to negate this bullish outlook.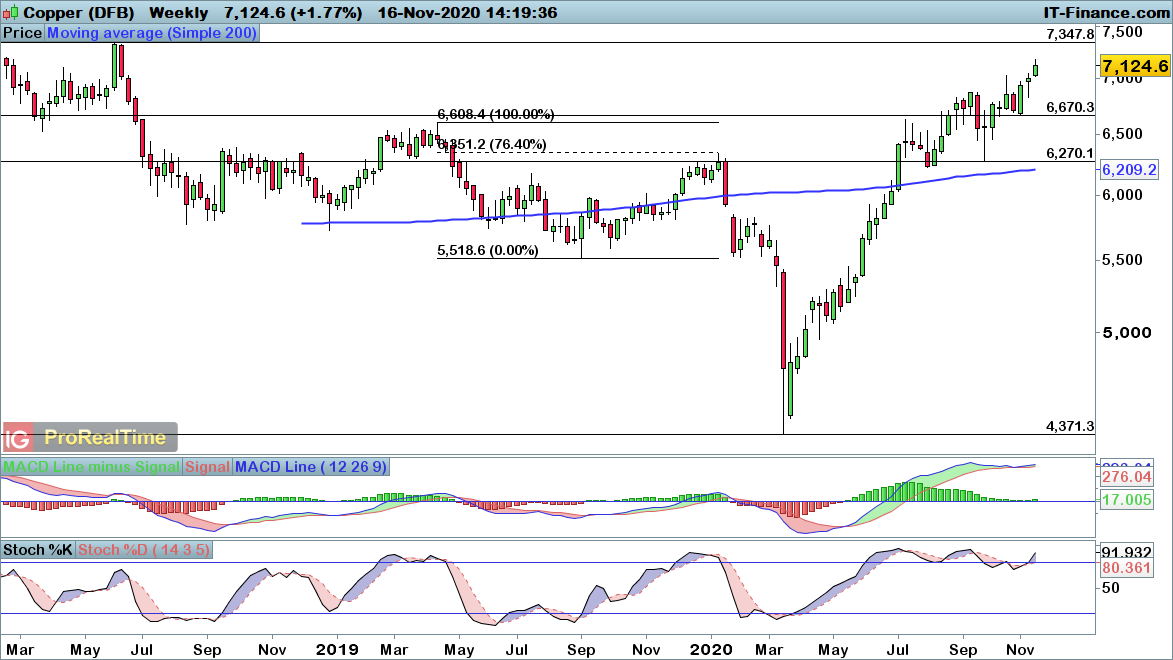 Source: ProRealTime
Aluminium at 19-month high
The aluminium uptrend seen over the course of the past six months has shown little sign of letting up over recent weeks, with the price hitting a fresh 19-month high.
The bullish ascending channel highlights the ongoing path higher, with a break below the prior swing-low of 1793 required to negate this bullish outlook.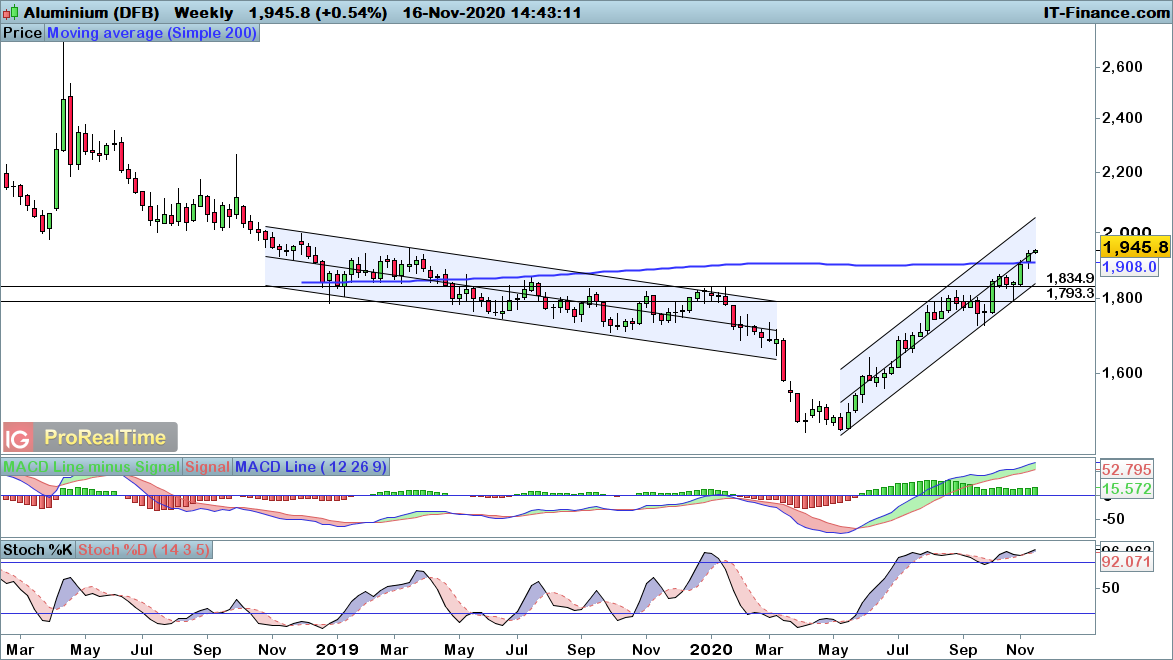 Source: ProRealTime
Nickel uptrend looks likely to persist
Nickel is on the rise, with the October peak hitting the highest level in almost a year.
Looking at things over the past three years, there is a clear uptrend playing out once again. This latest upward leg points towards further gains from here as we head towards the 18,844 peak from September 2019. As such, a bullish outlook is in play until we see a break through the 14,930 low seen earlier this month.